2023 New Energy Efficiency Standards are Being Released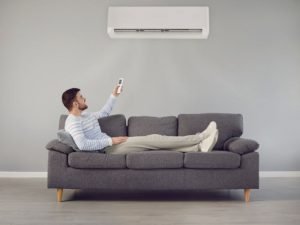 Why are there going to be new energy-efficiency standards? 
The U.S. Department of Energy (DOE) is the agency in charge of monitoring our country's energy consumption. Every six years, the DOE must examine various energy usages, such as home appliances and mechanical systems. The DOE assessment ensures that manufacturers continue to create products that are energy-efficient and environmentally friendly. 
If the DOE determines that more energy efficiency measures are necessary, then changes are enacted. The DOE works to ensure that consumer products continue to remain at the forefront of lowering the United States' carbon footprint.
What can we expect in 2023 in product manufacturing? 
There will be new minimum cooling efficiencies for newly manufactured residential and commercial HVAC systems, allowing more energy efficient ac units. There will also be minimum efficiency standards in effect for split system air conditioners (ACs) and split system heat pumps (HPs) due to the ongoing commitment of the DOE to reduce overall energy consumption.
Why is an energy efficient AC unit important? 
It's impossible to overestimate the value of an energy efficient ac unit for homes and businesses.  Because it is estimated that 90 percent of Americans spend their time indoors, having an energy efficient ac unit provides the highest level of comfort and efficiency. Indoor air quality can be two to five times (and even up to 100 times) more polluted than the outside air! The EPA ranks Indoor Air Pollution as a Top 5 Environmental Danger, so having an energy-efficient system is essential.
How to choose an energy efficient AC unit?
If you are in the market for a new air conditioner, there are some great products on the market today that will help you keep your energy costs down and your energy efficiency up! There are a number of features to look for when selecting a new energy efficient ac unit, so do your homework, then talk with the professionals at All American Heating and Air for tips on selecting the best and most efficient unit for your home or business.
What are the AC buying tips? 
Since new DOE guidelines are coming to ensure these consumer products meet energy efficiency compliance, look for air conditioning units that not only meet the new criteria but are also ranked for sustainability utilizing the following:
Energy-Savings Settings

High EER and SEER ratings

Energy Star®certification

Right size for the space*

Programmable temperature settings
*Units that are too large may leave it moist and humid, too-small a unit and you are always trying to regulate the temperature.
We have always worked hard at All American Heating and Air Conditioning to ensure that our products and services exceed expectations. We are constantly looking to the future of technology to help guide our business and continue our mission of providing customers with products that meet the highest standard of performance.