The Best HVAC Spring Cleaning Checklist for Whole House Air Purification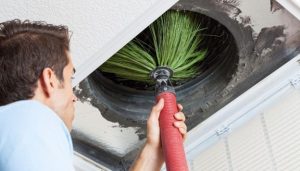 Why does your HVAC need cleaning?
If your household is like most, spring cleaning comes after a long winter of dormancy. Dirt, grime, dust, allergens, and debris can accumulate which can cause damage to your whole-house air purification system if not properly maintained each season.
So, when it comes to cleaning and servicing your HVAC system, spring is the ideal time to call the pros. But how does the HVAC checklist apply for a whole-house air purification system which is tied into your home's heating, ventilation, and air conditioning system and is designed to work seamlessly with your HVAC?
Where to Start
A great starting point is to clean your house first especially, in the spring. If you are ready to open windows and let fresh air in be sure to dust and mop first. Dirt, pollen, and other allergens love to gather on surfaces so start fresh.
With the onset of spring, remember to adjust your thermostat setting your HVAC system for an ideal temperature throughout the day. Programmable thermostats make keeping a home cool or warm on a pre-set schedule. With so many advanced features, these thermostats take the guesswork out of regulating temperatures.
What's on an HVAC Checklist?
Checklists serve as excellent reminders to complete tasks. Making sure your HVAC is ready for the summer heat should be at the top of your "to-do" list for your whole house air purification system. When it comes to a safety and cleaning inspection, HVAC certified technicians will ensure that your system is running at maximum efficiency for home comfort.
From filter replacement to coil inspection to refrigerant and electrical component testing, a comprehensive system review is an all-important service to remove contaminants and improve indoor air quality while saving energy.
How Important are Your Air Filters?
Air Filters aid in the capture of airborne particles such as dust, pollen, pet dander, mold, and other bacteria. According to the US Department of Energy, changing the air filter can improve the efficiency of your HVAC equipment by 5% to 15% resulting in additional cost savings.
Most home air filters should be changed every one to three months, depending on the type of filter, your indoor air quality, and the number of people and pets in your home. When replacing a filter for your whole house's air filtration system, make sure to verify the MERV rating.
MERV is an abbreviation for minimal efficiency rating value and is an excellent indicator of how well a filter catches particles. Also, look for Energy Star® certified filters which are 40 percent more energy-efficient than standard models.
Why Should You Clean the Outdoor Area Around Your HVAC?
This is an important step to ensure that your exterior HVAC area is kept free from debris, dirt, leaves, or mulch that build up over the winter months and can block the unit. Remember to cut back bushes or plants that could grow too close to the unit. Maximum airflow should be at least a one to two-foot clearance around the unit.
Are You Ready for a Whole House Air Purification System?
Ductworks play an important role in indoor air quality and the prevention of pollutants from entering the ventilation system. Over time ductwork may develop holes and cracks resulting in higher energy bills as your HVAC has to work harder to keep air circulating.
Now that spring is here, take advantage of the great savings from the pros at All American Heating and Air. They are ready to tackle your spring HVAC chores and give your whole house air filtration system the checkmark it needs to move into the next season.