How to Troubleshoot Your Heating System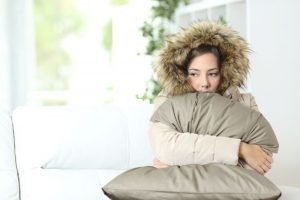 Winter has arrived, which means your home heating system should be working hard to keep your family and home warm during those chilly days and nights. But what if your system isn't working at maximum efficiency or the heat goes out? Is there anything you can try before calling your professional HVAC contractor for a heating repair?
How to Begin Troubleshooting
If you are on a regular maintenance program with your HVAC company, that is the first step toward lowering heating repair costs. However, if you experience no heat, fluctuating temperatures, loud noises, or thermostat issues, there are a number of steps you can take at home to help eliminate certain causes and move forward with a heating repair.
What Causes a Thermostat to go Blank?
The display screen of your thermostat serves as a hub for temperature readings and other programmable options. If you notice your screen displays a low-battery symbol or if the screen is completely blank, it's time to check the batteries. AA-alkaline or 3-volt lithium are usually required but check your system for type and replace them if necessary. If the screen remains blank after replacing the batteries—the next step: check the circuit breaker for a blown fuse.
When to Change Air Filters
When it comes to their role, air filters are unappreciated. They are a barrier between your HVAC system and dust, debris, hair, pet dander, and other airborne contaminants. Air filters not only help to improve your home's air quality, but they also protect the HVAC from damage.
Dirty air filters significantly contribute to heating and cooling problems such as increased energy consumption, inadequate heating/cooling, unhealthy air, and furnace failure. Be sure to check the manufacturer's recommendation for replacing your filters. A good rule of thumb:
1- 2-inch filters every 1 to 3 months
3- 4-inch filters every 6-9 months
5- 6-inch filters every 9-12 months
How to Check Ductwork and Registers
Have you noticed that one or two rooms in your home appear colder than usual, but the heat is coming on in other areas of the house? Is there a stale odor when you turn your heating system on? The culprit could be dirty or clogged ductwork.
Begin by looking at any visible ductwork for gaps between sections or branching points. Also, look for any cracks or holes. One of the best ways to ensure efficient airflow is to have the ductwork cleaned by your HVAC professionals.
You can take a few steps at home to ensure that your registers are sealed tightly. First, remove the register, then use caulk or foam to seal any gaps between the ductwork and sheetrock. Then apply a layer of insulation or weather stripping around the outer edge of the register for a better seal.
When Should You Call?
If you are not comfortable with troubleshooting your heating system and problems persist, it's time to call the experts at All American Heating and Air Conditioning. Our team of experienced and certified technicians are available for any heating repair needs. We service all major brands of home central heating and gas furnaces, as well as system components like thermostats. You can trust the team with the expertise to address your needs quickly and efficiently. Contact us today at 919-782-6242.