Do You Save Money by Turning Off Your AC When You Leave the House?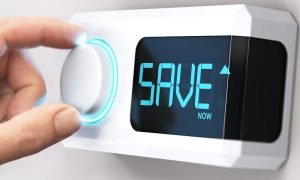 Everyone is focused on ways to save money. Costs have risen from groceries to gas, and we're all trying harder to save on the products and services we use. But does turning off specific appliances make sense? It's an age-old question for people trying to save on energy costs.
So, before you hit the off button on your AC thermostat, check with the professional contractors at All American Heating and Air for best practices regarding your HVAC systems. In this article, we'll break down the ways to help you save money from the HVAC professionals who do it best.
You can rely on us for knowledgeable guidance, as we take our responsibility to seriously assist customers with energy-efficient products for their homes or businesses. With a solid dedication to guaranteeing top-notch sales and services, our team has over 20 years of expertise assisting customers with all their HVAC needs.
Where to Begin?
You've undoubtedly noticed that summer-like temperatures have arrived in North Carolina earlier and earlier each year. As a result, air conditioning systems are used more frequently and for more extended periods. Therefore, it's essential to ensure your HVAC system is running smoothly and efficiently before adjusting your AC programming.
Getting that all-important bi-annual HVAC clean bill of health from an experienced contractor will help ensure that systems are operating at peak performance when you need them.
How Can You Improve System Efficiency?
Coming home to a 90-degree house makes little sense when trying to escape the scorching heat outside. This is where using a smart or programmable thermostat can save the day with leading-edge technology and comfort. These Wi-Fi-enabled devices adjust heating and cooling temperatures to keep your home comfortable and save money.
They can be controlled using a cell phone, tablet, smart speaker, or other internet-connected devices. If you are a frequent traveler, these devices are also perfect for monitoring and controlling your home's AC efficiency while away.
Using an Energy Star® smart thermostat saves approximately 8% of heating and cooling bills or $50.00 per year on average. Savings may be more significant depending on climate, personal preferences, occupancy, and/or heating and cooling (HVAC) equipment, as noted within the Energy Star information guide.
What Can You Do to Save on Year-Round Energy Costs?
If your yearly energy costs continue to rise from using an outdated HVAC system, talk with your reputable AC contractor about switching to a high-efficiency central air conditioning system that could reduce your energy use by 20 to 50 percent.
Today's HVAC manufacturers, including Amana, Trane, Rheem, and Daikin, to name a few, are leading the way by bringing state-of-the-art, energy-efficient products that offer long-lasting comfort and convenience while significantly reducing energy costs throughout their years of service.
Remember that air ducts must be kept clean to minimize energy losses. Energy.gov notes that ducts leaking heated air into unheated spaces can add hundreds of dollars annually to your heating and cooling bills. Let us inspect your ductwork for any leaks, kinks, or damage.
All American Heating & Air Conditioning
Need more information? At All American Heating and Air Conditioning, we have the HVAC experts to help your home or business. We are ready to answer any questions you have about money-saving solutions. Call us at 919-782-6242 and see what we can do for you.