Tips for Cleaning Your HVAC System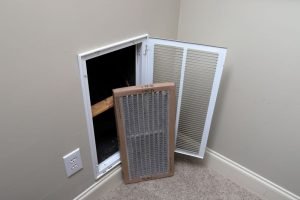 Your HVAC system has worked extremely hard to ensure optimal operating efficiency to keep your home warm throughout the chilly winter months. With spring just around the corner, now is the ideal time to prepare your HVAC system before starting the air conditioner.
Proper maintenance should be a continuous process throughout the life of your HVAC system to help safeguard this all-important investment. In order to prevent a "please fix HVAC" call, the experts at All American Heating and Air Conditioning offer important home HVAC tips for the upcoming seasons.
Where to Begin?
Start on the inside by cleaning all the windows, screens, curtains, and fans to remove any buildup from winter dirt and allergens. Caulk around all windows for an airtight seal and examine screens for tears. To rid the vents of any dust or allergens that may have accumulated, open the vents and wipe the slats down with a moist cloth.
When warmer weather arrives, open the windows to let fresh air in and stale air out. Remember to turn your ceiling fans counterclockwise for the summer months to create a cooling breeze.
Check the Outside Unit
Make sure your HVAC unit has a clear path all around it by removing any leaves or trash. Also, be sure any plants or bushes are planted at least 2–3 feet from the unit. If they are any closer, the airflow can become obstructed.
Spring Means New Air Filters
HVAC air filters are an essential component of your system. However, they are often underrated for their value in trapping dust, allergens, and other particles from entering the air. Did you know that a dirty air filter lessens the operating efficiency by 5–15%?
When it's time to replace your filter, make sure you are buying a high-efficiency pleated one. With an electrostatic charge, these filters capture dust particles and other bacteria by trapping them inside. Be sure to look for a filter with a MERV rating of 7 or higher. Remember that air filters help improve your system's lifespan and reduce the need to fix HVAC.
Start Fresh with an Energy-Saving Thermostat
Is your thermostat losing your hard-earned money? According to the Department of Energy, a programmable thermostat allows you to adjust the times you turn on the heating or air conditioning according to a pre-set schedule. In addition, a programmable thermostat can store and repeat multiple daily settings (six or more temperature settings daily).
This is a wise investment for your home, and being able to pre-set your temperatures year-round is a great way to improve the efficiency of your HVAC system. Check with the experts at All American Heating and Air Conditioning for programmable thermostat recommendations for your home.
Schedule a Tune-up
Now that you've completed a home HVAC checklist, it's time to contact experienced and certified technicians to perform comprehensive HVAC maintenance. If your system is not working properly, you could be faced with a fix HVAC repair appointment instead. So seasonal maintenance is an extra step to ensure your system operates as it should. Contact us today at 919-782-6242 and schedule a maintenance appointment.